Hi everyone,
It is July and still raining but we are hoping for sun. The club has had a lot of things to do this spring. To get the trail back to Canton we have had to get the businesses in Ames Plaza to OK it. We are still in the process of getting all the permits and landowner permission so we can make a trail by the mill fence. It has involved a lot of people including DEP, Brian Bronson, Bob Bahre, as well as the Verso Paper. Ruth Marden deserves a huge thank you for all of her help as well in speaking with Bob Bahre and presenting the proposal to the Jay Selectment for the bridge approval. Until all this has been completed and approved by the state the bridge will remain closed to ATV's.
Rene Grondin has taken over as president of the Bretton's Wheeler's ATV Club. Without Rene's help the club would have folded and the trails in that area would have perminately closed. Rene would appreciate any help and new members for his club.
The club would like to recognize Mike Lee for his hard work in removing two refrigerators and computers from the Cousineau Loop. This area always seems to be a dumping ground and his help to keep it clean is much appreciated.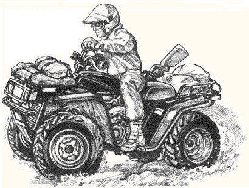 The next meeting will be on August 6th at 7:00 p.m. We are hoping to be at the new Jay town office building (across from McDonald's). We are waiting for the final touches and permission from Ruth Marden. Please call 897-2926 with any questions.

Events:
July 13th-Ride in South China. Meet at McDonald's in Jay at 8 am. A store is available to get lunch.
July 19th-Work party. Meet at McDonald's in Jay at 8 am. We are going to Mt Vernon to help the Mountain View ATV Club with their trail system. All help would be appreciated!
July 26th-Ride from Solon to Athen's. Meet at the Mt. Blue shopping center in Farmington at 8 am. A store is available for lunch.